The spread of COVID-19 is now considered a global pandemic. In the United States, the particulars of how the disease spreads (long and contagious incubation period when infected individuals do not show symptoms), combined with a delayed response to presumptive cases, has made it infeasible to "contain" the outbreak by tracing and quarantining all of the people that come into contact with any confirmed cases. This is a very dangerous situation that has the potential to cause enough serious infections to overwhelm our healthcare system, as has already happened in Italy. We must act collectively to mitigate the number of people killed by this outbreak. This post tries to lay out the current situation as we understand it and provides resources to protect ourselves and our communities, as well as opportunities to contribute expertise to understanding the outbreak. We expect this post to be updated with more relevant information and resources as the response continues.
Links:
Status of the Outbreak
As of March 16th, 164 confirmed or presumptive cases of COVID-19 have been reported in Massachusetts, and 445 individuals who have come in contact with someone who has been infected remain in official state-sanctioned quarantine.  Case counts are updated daily and reported here: https://www.mass.gov/info-details/covid-19-cases-quarantine-and-monitoring#covid-19-cases-in-massachusetts- 
Ideally, the spreading of an infectious disease can be stopped by containment, which involves identifying and isolating all of the individuals that an infected person was in contact with while they were contagious. This strategy is very labor intensive and only possible when the presumed number of infected individuals is low. At this point, contact tracing for all new cases is not a realistic possibility. Thus, MA officials are urging the public to use mitigation strategies, most notably social distancing, with the goal of flattening the epidemic curve (described in the next section).
Social distancing means changing behavior to minimize contact with others that could cause transmission. The purpose is to break up the contact network that the disease would otherwise spread through. Social distancing includes things such as maintaining several feet of distance between yourself and anyone not in your household, avoiding crowded spaces, working from home, school closures, and more. 
News Links:
Flattening the Curve: What, Why, and How?
Check out this excellent interactive article in the Washington Post for a detailed explanation, including simulations: https://www.washingtonpost.com/graphics/2020/world/corona-simulator/ 
Flattening the curve is delaying the spread of a disease so that hospitals are not overwhelmed and critical health resources are not depleted. This does not necessarily mean reducing the total number of cases, but instead spreading the serious infections that require hospitalization out over a longer time period, thus avoiding a major spike in serious cases that overwhelms the healthcare system. This is a strategy undertaken when the "containment" strategies are no longer viable and we're focusing on "mitigation". The idea is that when health resources are depleted (e.g. when hospitals run out of beds or, more likely, ventilators), any additional cases may not receive adequate care.
This visual helps explain the idea: An epidemiologic curve with a very high spike means overwhelmed healthcare systems, inadequate treatment, and more deaths. "Flattening" that curve, or spreading the total cases out over time, means more people are able to receive adequate care and fewer cases, even those that require hospitalization, prove fatal.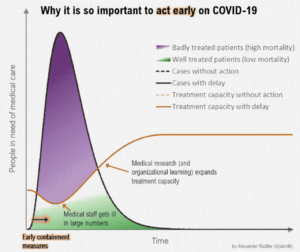 (Animated gif at: https://medium.com/@tomaspueyo/coronavirus-act-today-or-people-will-die-f4d3d9cd99ca)
More Information: 
Protect Yourself and Stay Informed
We encourage members of our community to be proactive in protecting themselves by keeping up to date with instructions and policies put out by the University, Mass Department of Health, and the CDC. 
Why washing hands is more effective than hand sanitizer: https://www.cdc.gov/handwashing/show-me-the-science-hand-sanitizer.html
It is suspected (source) that taking ibuprofen can weaken your body against the virus if you are infected. If you have a fever or need a painkiller, choose acetaminophen (aspirin like Tylenol) over ibuprofen if possible, and of course consult with a medical professional if you are unsure how to manage your treatment or unable to control symptoms.
Protect Your Community
Since the outbreak has escalated, many mutual aid networks and other support groups have emerged in Boston as well as across MA and the rest of the country. These resources are vital to protecting our communities – if you are in need of or able to offer assistance, find your neighborhood in the links below:
Join the (Scientific) Fight: 
If you have skills and time you would like to contribute to helping understand and stop the pandemic, check out the resources below:
Links to Data
Links to Papers:
Some Open Questions
What are the available health resources in different countries and when will they likely be overwhelmed? 

What is the projection of the number of new cases/mortality rate with reduced or unavailable resources?

How can we coordinate mutual aid work?